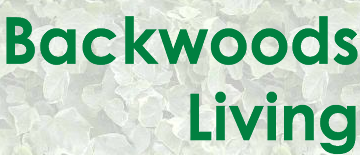 Disclaimer: All information on this site is for informational purposes only. Before using any alternative remedy, begin any new exercise routine or otherwise start trying any of the recipes included on these pages, check with your primary health provider. Many herbs, foods, and exercises can conflict with medications you are taking or have unknown side effects.
All Pages Are
Copyright
by
Kat and Kevin Yares

Use of any of these works without written
permission
is prohibited by law.


Woodstove Corral

Two years ago with the addition of our grandson, Zayden, we decided that we would have to do something about the wood stove area. We needed to keep little fingers away from the hot metal of the woodstove.

Picking out some pine boards I hit the planer and the table saw to create the woodstove corral. It is 18 inches high and completely surrounds the insulated aluminum piece that protects the floor from any hot embers. The uprights are on a staggered 4-inch center and made of 1" by 1". The top and bottom railing are 1" thick by 2½ inches wide.

Not only does this work well for keeping the boy away from the stove but also acts to keep the wood in one place. With a full stacked load there is enough fuel for our neck of the woods to keep us warm for about a week in cool to cold weather. And about four days worth for really cold. Really cold here is in the twenties.

Having the wood close to the stove works well for curing any green wood after a couple of days. Yes, it is not a full cure for burning green firewood but it does a good job where we can safely burn green oak with out too much creosote build up in the flue. Hickory though, well that is a different matter.

Really cold weather for us is hickory all the way, green or cured. Of course cured hickory after a year and it does not seem to heat as well as green or a few months cut.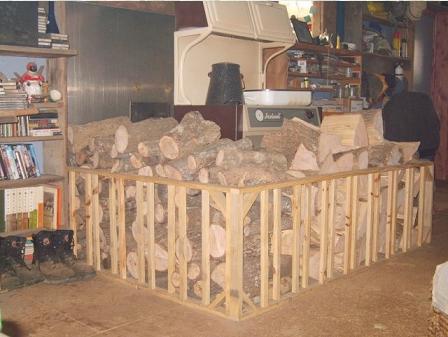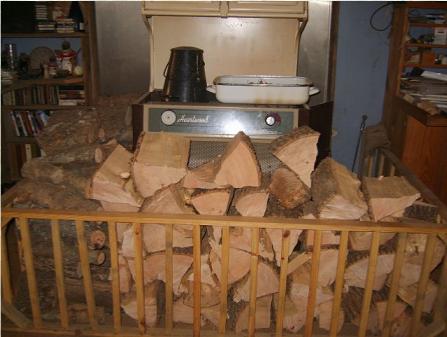 Large hickory chunks ready for the fire

For Rural and City Living